Strictly speaking these are not your traditional Anzac* biscuits. I jumped on the almond milk bandwagon a while ago now, as I've avoided dairy milk for years due to allergies. I was converted when I released how easy it was to make using a nut bag, and how the homemade stuff doesn't have any icky fake almondy flavour that sometimes you get with store-bought brands. However, I do often struggle with what to do with the pesky leftover pulp. I can't throw it out, as that's just plain wasteful. Sometimes I'll add it to smoothies but usually I'll throw it in a container in the freezer for my next baking experiment. Enter these biscuits.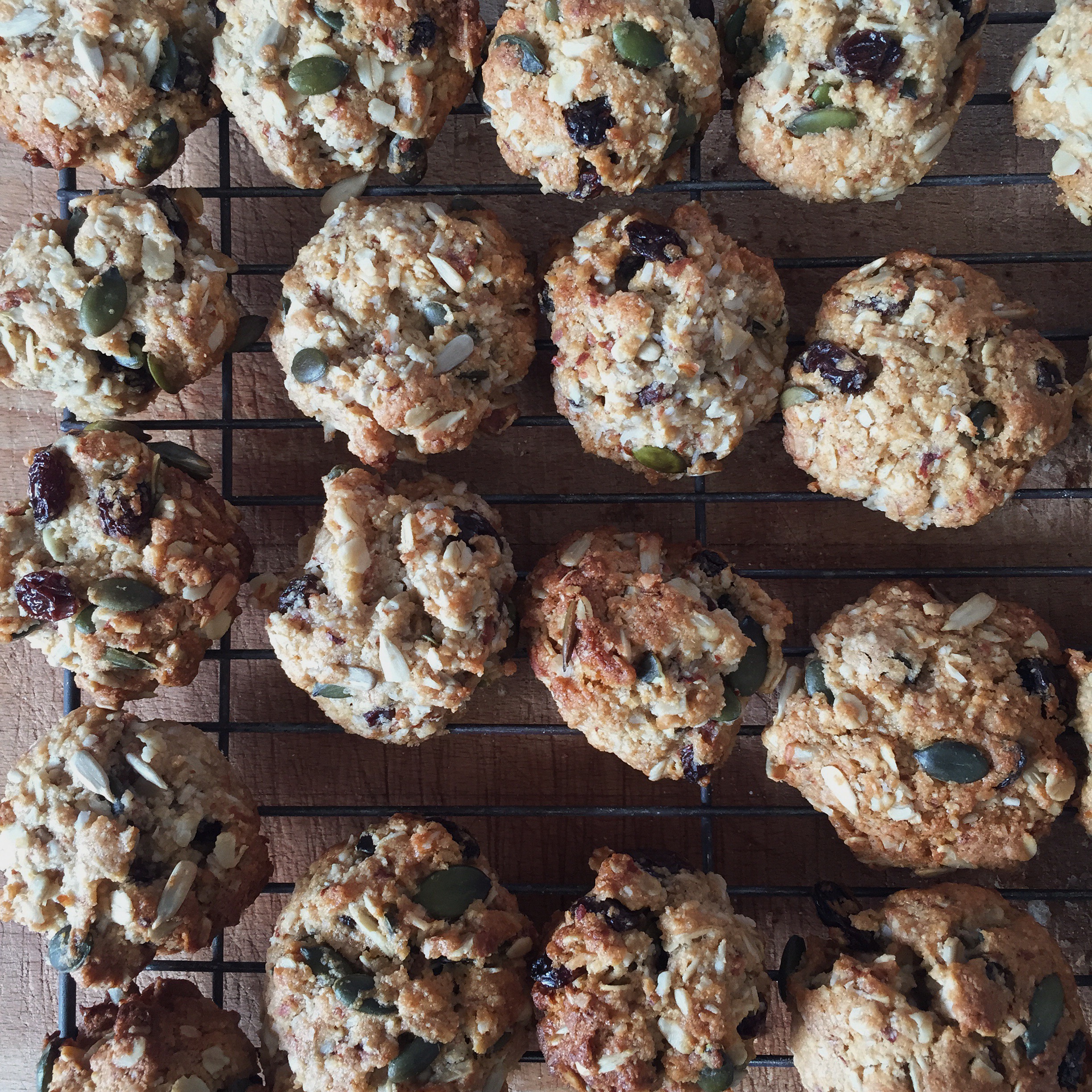 This recipe is loosely based on the Flapjack Anzac Cookies in the wonderful A Modern Way to Eat by Anna Jones (one of my favourite cookbooks of the year, the other being this). Jones' recipe doesn't include almond pulp, and I also added some seeds for extra bite. I'm pretty loose with measurements usually but I found this works well.
Almond pulp Anzac biscuits (makes about 30 small or 16 big ones)
Ingredients:
Almond pulp leftover from making milk (I use 110 grams or 2/3 cup of raw almonds)
125 grams spelt flour or coconut flour
50 grams whole oats
80 grams desiccated coconut
100 grams raisins
75 grams unrefined soft brown sugar
1/4 teaspoon bicarbonate soda
125 grams of coconut oil
3 tables of maple syrup
100 grams of seeds (I used pumpkin and sunflower)
Directions:
Preheat your oven to 180 degrees/C. Line two baking trays with baking paper.
Weigh all the dry ingredients into a big bowl - flour, oats, coconut, raisins,sugar, bicarbonate of soda and seeds.
Crumble in the nut pulp and mix through.
Melt the coconut oil in a pan until it's liquid. Let it cool a bit, then add the maple syrup and mix.
Make a well in the dry ingredients and pour in the liquid mixture.
Mix well and squeeze the mixture together, as it's a little crumbly.
Make into balls, either small or large and place on the prepared baking trays. Leave a little space between to allow them to spread.
Bake for 10-12 minutes until a little golden.
Remove from the oven leave to cool for about 5 minutes on their trays before transferring to a cooling rack.
I'm not sure the original Anzacs would've approved of my version of these biscuits but the boyfriend ate about 5 in one go, so they must be okay. In preparation of our trip to Rome last week, I whipped up them up to take with us. I find making bars, date balls or some kind of healthy-ish snack, an easy way to keep us going when on holiday. Something we can snack on when we haven't bought any food yet for breakfast or we just don't want to eat the crap they sell in airports. They lasted several days in an airtight container.
* April 25 is Anzac day in my homeland New Zealand, and in Australia. This day of remembrance marks all those who served and died in all wars, conflicts, and peacekeeping operations, and the contribution and suffering of all those who have served. Anzac Day was originally to honour the members of the Australian and New Zealand Army Corps (ANZAC) who fought at Gallipoli during World War I. I'll probably never drag myself out of bed to go to a dawn ceremony, nor will I ever drag myself to camp out at Gallipoli with hoards of Antipodeans, but as my grandfather was in the airforce during WWII, it's not something I'll ever fail to remember. x